Picsart creative photo editing tutorial
hello friend today I'm here to teach you a special editing called picsart creative photo editing tutorial. today i will teach you how you can make such a photo.
before making your such photo you need to dwonload the hd background required in this editing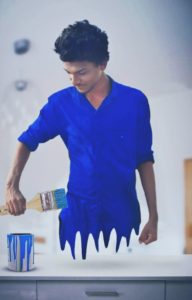 this editing is going very popular on instagram so most of people were wondering that how  can this photo be made. normally this is editing on photoshop windows application .
which requires huge investment on buying photoshop official application and  a laptop/pc.
but don't worry guys if you lacks a pc then today i am gonna help you. i will teach you that how you can make this photo using your smartphone . with the help of very popular app pics art .
Follow these steps:
open your photo in picsart
make some colour adjustments
paint your shirt with blue colour brush and blend it as overlay
NOW remove the background of your photo
download and open the background in picsart
apply you photo cutout on this background
add all pngs
go to adjust and then select stretch
choose first option and stretch the tshirt to down
its almost done
now add your favourite filter and save photo
 watch  video tutorial
You can watch this tutorial out on our you tube Chanel.
This tutorial is absolutely free but all you need to do is just support us so that we can bring more and more helpfull tutorial for you.
On order to support  us you need to
Subscribe us and press bell notification icon (if you are new)
 Give a like to our video and most important share our video on your social media like facebook , whatsapp or instagram.
Now enjoy our tutorial here.
HOPING THIS VIDEO IS VERY HELP FULL FOR YOU.
IF IT REALLY WORKED AND YOU REALLY WANT TO APPRECIATE ME THEN PLEASE LIKE AND SHARE THIS VIDEO WITH YOUR FRIENDS ON SOCIAL MEDIA.
YOU CAN SIMPLY COPY THE LINK OF VIDEO AND SHARE IT ON FACEBOOK, WHATSAPP AND OTHER SOCIAL MEDIA PLATFORMS.
And guyz please dont forget to subscribe my Chanel
Download stock:
You can download all the stock images from the link given below but before downloading keep in mind that the images are not 4 commercial purpose please don't use or re-upload them without prior permission from us
METHOD 1
tap and hold on any photo which you want to download
choose save or download option
and your photo is saved in gallery