Jio prime membership expiring on 31march 2018. what to do now? how to continue with jio.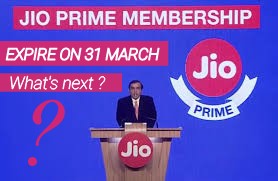 so you have participated in jio prime membership which was valid for one year only and now expiring on 31 march 2018 and thats not too far.
its only 4 days left to the expiry date and jio officials have not announced any scheme about how to continue the prime membership of jio. while registering for jio in begining the sims was given for free of cost along with data for one year .
but gradually jio tends to charges a decent price for its data packs and continues to offer free voice calls . though the price was decent and people are satisfied with this becuase ata the same time other companies like airtel , vodafone and idea were too far from the prices of jio.
but then jio thinks of recovering the price of thier sim cards and they launched a special plan wich was called as jio prime mememember . it was priced only at 99₹ for one year. it means you have to pay only 99₹ for jio prime membership for one year , but if u have ever noticed the jio's prime membership is not an option for customers rather it becomes compulsory to opt for jio prime membership for every customer.
it means you have to buy jio prime membership to continue using jio sim cards. thats a compulsion and everyone have to buy prime membership.
though the membership was valid for 31 march 2018 , but now its only 4 days left for the date of expiry.
jio at present have over 160million prime customers . and if jio start to charge 99₹ again for prime membership it will generate totol revenue of arround 1600 million indian rupees excluding the cost of plans.
as you jio is the biggest telecommunication network in india and if jio really wishesh to charge 99₹ again for jio prime membership it may have start asking to pay 99₹ from january or maybe much earlier, beacuse its difficult to convince 160million customer to pay 99₹ just in 3 days , so after making neccessne resaeres and inquiry i think jio will charge nothing now on the name of prime membership.
according to us jio can opt eaither of too options eaither
WHAT WILL HAPPEN AFTER 31st MARCH 2018 ?
OPTION 1
Jio may expands the prime membership period from 31 march 2018 for maybe one or three months for free. (this is not an official announcement its just an expected outcome of jio prime membership)
OPTION 2
JIO may have ended its membership fee of 99₹ . it means jio may stops the concept of prime membership and now treats every jio customer as equal. it means no more prime membership. in return to prime membership jio may charge a fixed amount while buying a new jio sim connection wich will be one time fee.
Thankyou for reading this article. anything written in this artical is not confired by jio official team. its just a guess wich we are making on the basis of neccenece research.
what you think jio will do after 31 march, let us know in the comment box
share this article with every jio user.